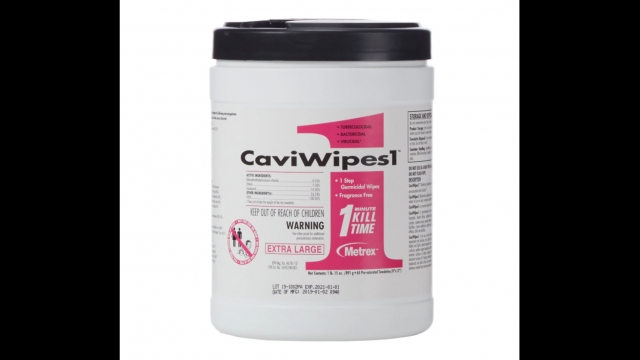 The surface disinfectant products announced by SurgiMac for this year include several non-bleach alternatives that have been recognized by the CDC for their effectiveness at disinfecting hard, non-porous surfaces.
More information about non-bleach surface disinfectants, cleaning with hydrogen peroxide, and the full range of products from SurgiMac can be found at https://surgimac.com/collections/surface-disinfectants
Though hydrogen peroxide has traditionally been used as both an at-home and clinical antiseptic for minor injuries, in recent years it has more commonly been used as a surface disinfectant, which is gentle enough to use on home products. SurgiMac offers several peroxide-based products that are approved for use as disinfectants, including Clorox Healthcare, for clinical use.
Though it can also be used at home, Clorox Healthcare is intended for medical settings, where less-corrosive cleaners are preferred. These wipes have been tested by the manufacturer on a range of medical devices, as well as hard and soft surfaces, to ensure they disinfect effectively while leaving the surfaces unharmed.
According to the Environmental Protection Agency (EPA), Clorox Healthcare wipes can kill up to 38 different pathogens, with a standard 30-second to 1-minute contact time. This includes the SARS-CoV-2 virus, when the wipes are used according to the manufacturer's directions, on a hard, non-porous surface.
The wipes are also verified as effective against 13 antibiotic-resistant pathogens, which is more than any other wipe currently registered with the EPA. While peroxide-based wipes are less corrosive, they can still cause minor bleaching of some surfaces, and SurgiMac recommends clients perform a small test patch in a less visible location.
SurgiMac has also announced a wide range of alcohol-based wipes, which can eliminate harmful pathogens faster than peroxide-based wipes, though they can also be more harmful to some surfaces. The full product line includes items from Metrex, PDI, and McKesson. More details can be found at https://surgimac.com/products/caviwipes
These products qualify for SurgiMac's fast shipping service, which uses warehouses across the United States to minimize transport times.
One satisfied client said, "Orders were shipped to me in a timely manner, with great packaging. Product quality and service are excellent. I will definitely recommend SurgiMac for dental supplies."
More information about Clorox Healthcare, SurgiMac, and the full line of surface disinfectants can be found at https://surgimac.com
SurgiMac LLC
10 Kees Place
Suite C
United States
COMTEX_426324353/2764/2023-03-10T22:43:12
Disclaimer: The views, suggestions, and opinions expressed here are the sole responsibility of the experts. No Diligent Reader journalist was involved in the writing and production of this article.